The featured community of Olivette is a suburban area centrally located in St. Louis County, Missouri. Along with beautiful real estate, Olivette also offers a variety of parks and great schools. It's the perfect city for families, couples, singles, elderly, basically anyone and everyone.
Real Estate in Olivette, MO
Olivette real estate is composed of a variety of condos, single family homes and townhouses. If you're a fan of parks and green space, you'll feel right at home here seeing as they have five beautiful parks. They also have a rich history of being the half-way point for travelers in the 1800's heading west between the Port of St. Louis on the Mississippi River and Howell's Landing on the Missouri River.
Real Estate Statistics for Olivette, MO
Total population: 7,843
Average household income:

$47,338

Total housing units: 3,062
Percent of houses occupied: 78.31%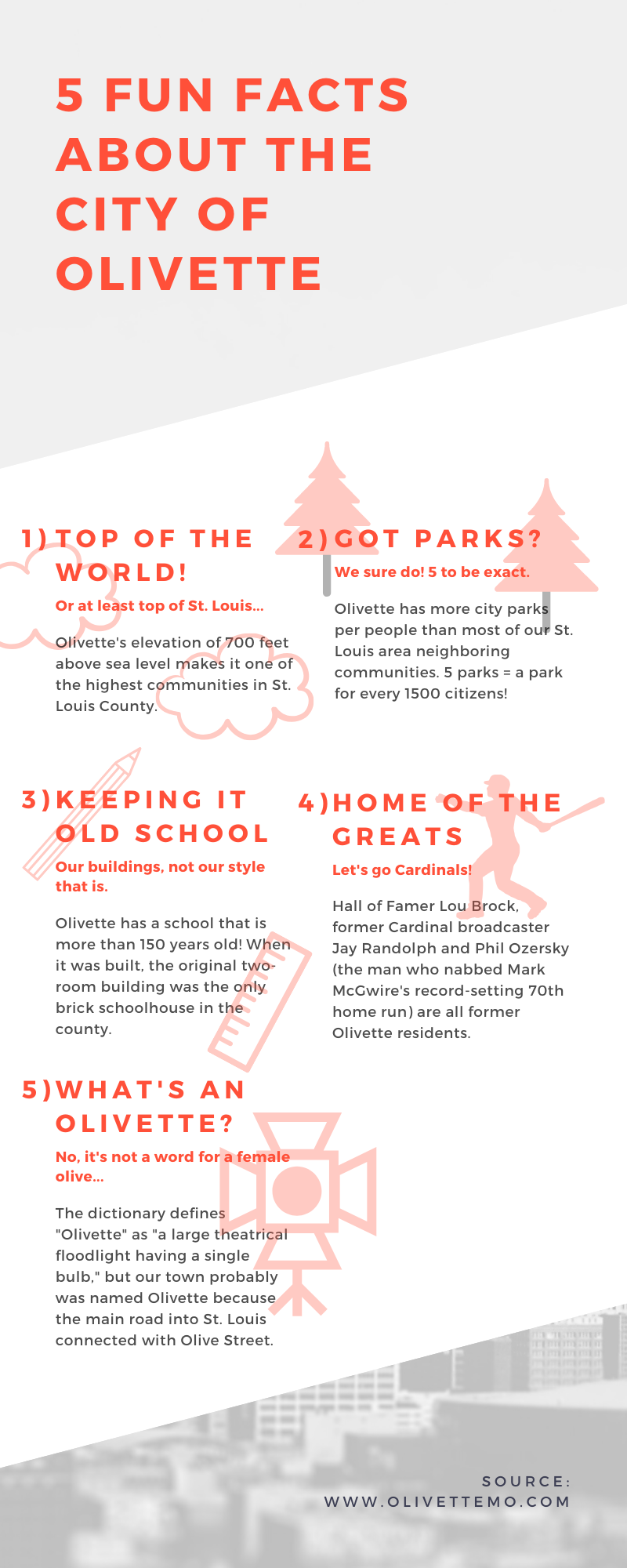 School Districts in Olivette, MO
The City of Olivette is part of the Ladue School District, one of the top school districts in Missouri. In fact, U.S. News &nWorld Report, 2016 annual ranking of "America's Best High Schools" ranks Ladue Schools – Horton Watkins High School – as first in public high school education in the state of Missouri.
LADUE SCHOOL DISTRICT
Two of its schools — the Ladue Early Childhood Center and Ladue Middle School — have been named National Schools of Character
The Ladue School District is comprised of an early childhood center, four K-4 elementary schools, a Fifth Grade Center, a middle school and a high school
More than 4,000 students attend schools in this district
A socio-economically diverse student body
Graduation rate: 97.23% (Class of 2018)
Average ACT Score: 25.9
Entertainment in Olivette, MO
The city of Olivette is rich with culture and exciting events. There are theaters, casinos, bowling alleys, delicious restaurants and a handful of outdoor activities available for the residents of this community to enjoy.
Arts/Culture
There are two contemporary, stadium seating, cinema complexes which are located just a stones throw away at the western and eastern boundaries of Creve Coeur. If you're craving live entertainment, you'll find just what you're looking for at First Run Theatre. This state-of-the-art theatre is dedicated to showcasing unique unpublished productions.
Outdoor

Activities

As previously stated, Olivette is home to five parks. This includes Rodes Park, Bloom Veterans Park, Villa Park, Irv Zeid Park, and last but not least, the most popular — Stacy Park Playground.
More Information About Olivette, MO
 
Please remove some of the selected filters.