This

featured community

, the City of Clayton, is known for offering its residents an outstanding quality of life. After checking out Clayton real estate and the surrounding community, many have chosen this city as their home. Clayton offers a winning combination of both a lively downtown and beautiful, calm residential neighborhoods. It is a chic suburban community with an urban flair, just west of the City of St. Louis.
Real Estate in Clayton, MO
Clayton is the hub of metropolitan with over 7,000,000 square feet of prestigious office space and 1,000,000 square feet of retail space. Clayton real estate is centered around outstanding residential neighborhoods which offer a mix of single-family homes, condominiums, and multiple-family apartments. You'll have a multitude of living styles and price ranges to choose from when browsing properties in Clayton. The best part is that most neighborhoods in Clayton are within walking distance of offices, restaurants, galleries and other specialty boutiques and shops.
Clayton, MO Featured Community Synopsis
Average Sale Prices
The average sale price for a home:

$848,176

The average sale price for a single-family home:

$1,013,740

The average sale price for a condo: $310,690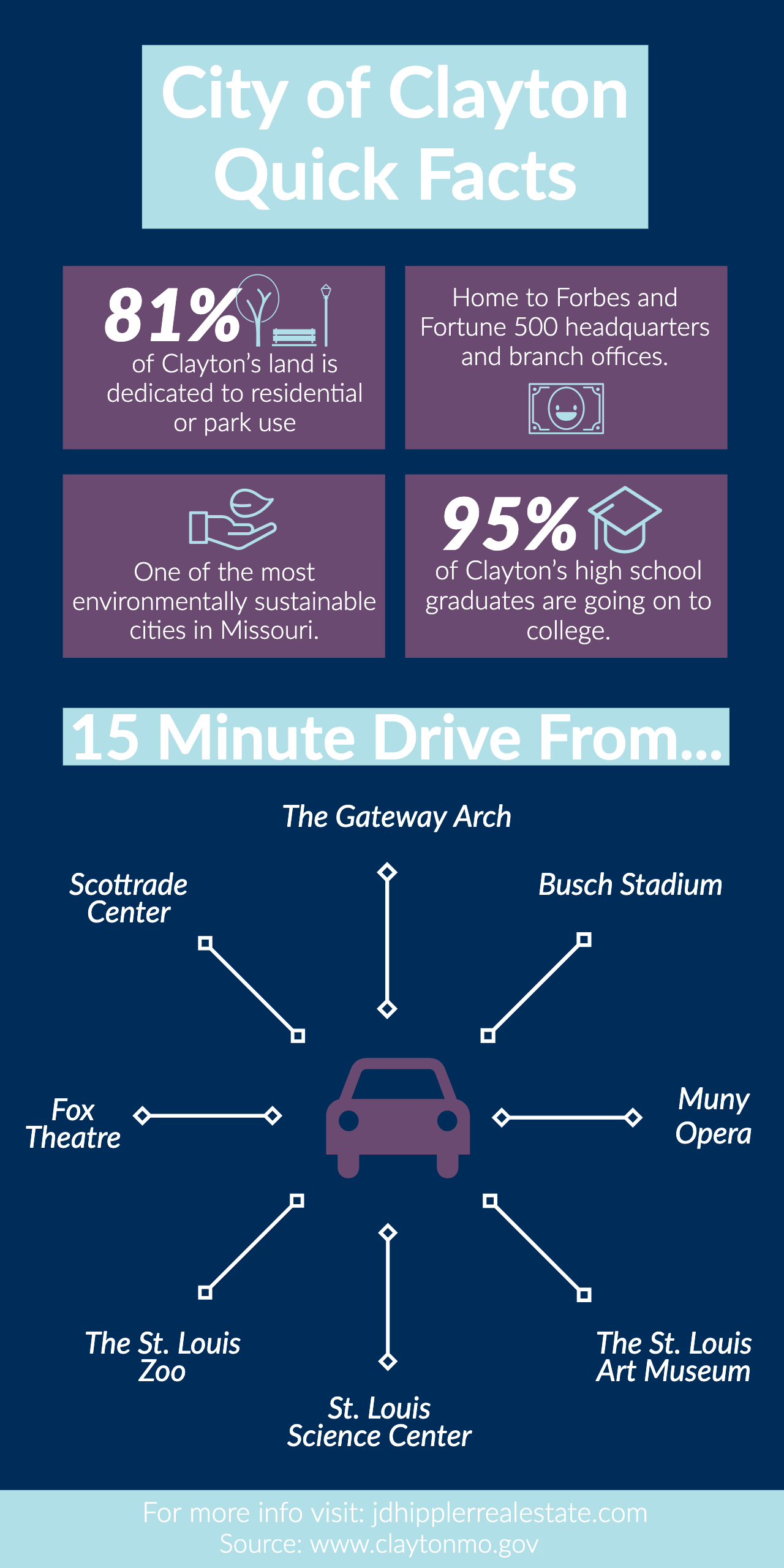 School Districts In Clayton, Missouri
There is only one school district in Clayton which is the District of Clayton. Their mission is to inspire each of its students to love learning and embrace challenge within a rich and rigorous academic culture.
The School District of Clayton
Clayton maintains a student to teacher ratio of about 12:1 at the elementary, middle and high school levels

Most classroom teachers have nearly 17 years of experience and 95.4% hold a master's degree or higher

Each school has a library exceeding national standards and a full-time librarian

At Clayton High School (CHS), 24 Advanced Placement courses are available

Students took 549 AP exams during the 2017-2018 school year and earned a passing grade of a 3, 4 or 5 on 93 percent of those exams

Graduation rate:

99.5% (2018)

Average ACT score: 25.9
Entertainment In Clayton, MO
Clayton offers a multitude of entertainment options from a relaxing day at the community pool to a fine dining experience in the downtown. Whatever hobby you may have or are looking to get into, Clayton offers a variety of facilities and services to cater to you.
Shopping & Dining
One of the biggest highlights of living in Clayton is the overwhelming amount of shops and restaurants available to you. Their downtown (often referred to as the 2nd downtown of St. Louis) is filled with boutiques, coffee shops, small businesses, and restaurants ranging from casual to upscale. Almost everything is within walking distance making it the ideal downtown for grabbing a quick lunch with a coworker or meeting up with friends for a few evening drinks.